ITA
"Cosa succede se l'arte tradizionale dei Nativi Americani si fonde con lo stile "nose-art" degli aerei da combattimento? Succede che vi ritrovate tra le mani un coloratissimo Frog v3 drogato di velocità e pronto a soddisfare l'insaziabile bisogno di volare!" - A.R. Messina - creatore del concept e aerografista.
"Speed Addiction ver. 2" è un'edizione speciale a tiratura limitata a 5 esemplari numerati e certificati.
Naturalmente, il prezzo esposto INCLUDE il frame "Frog v3"
DISPONIBILI PACCHETTI BNF. Contattateci per i dettagli
In collaborazione con Fpvgame
Render 3D di Gabriele Messina
ENG
"What if traditional Native American art merges with WW II's nose-art style? Happens that you get the most colorful Frog v3 frame, speed addicted and ready to satisfy the most instatiable need to get higher! - A.R. Messina - art concept creator & airbrush specialist.
"Speed Addiction ver. 2" is a Limited Special Edition - 5 numbered pieces ONLY
Shown price INCLUDES the Frog v3 frame, of course
Also available as BNF Package. Feel free to contact us for details
In association with Fpvgame
3D Render by Gabriele Messina
Description:
Designed with freestyle in mind, the Frog V3 it's the third iteration of the series!
Thanks to the, low rider top mount battery, which is at the same height of the motors, the Frog V3 guarantees the perfect weight distribution, giving the ultimate flying experience to the pilots, not matched by its "traditionally" designed competitors.

Do you wish to forget about prop wash or oscillations due to a bad weight distribution?
Then choose Frog V3, and forget about everything else!
**All our carbon fiber kit / spare part are made and cut in Italy**
Descrizione:
Progettato pensando al freestyle, il Frog V3 è la terza iterazione della serie!
Grazie alla posizione ribassata della batteria, che si trova alla stessa altezza dei motori, il Frog V3 garantisce la perfetta distribuzione del peso, offrendo ai piloti l'esperienza di volo senza eguali rispetto ai concorrenti "tradizionalmente" progettati.
Desiderate dimenticarvi del prop wash o vibrazioni a causa di una sbagliata distribuzione del peso?
Scegli Frog V3 e dimentica tutto il resto!
**Tutti i nostri kit / pezzi di ricambio in fibra di carbonio sono realizzati e tagliati in Italia**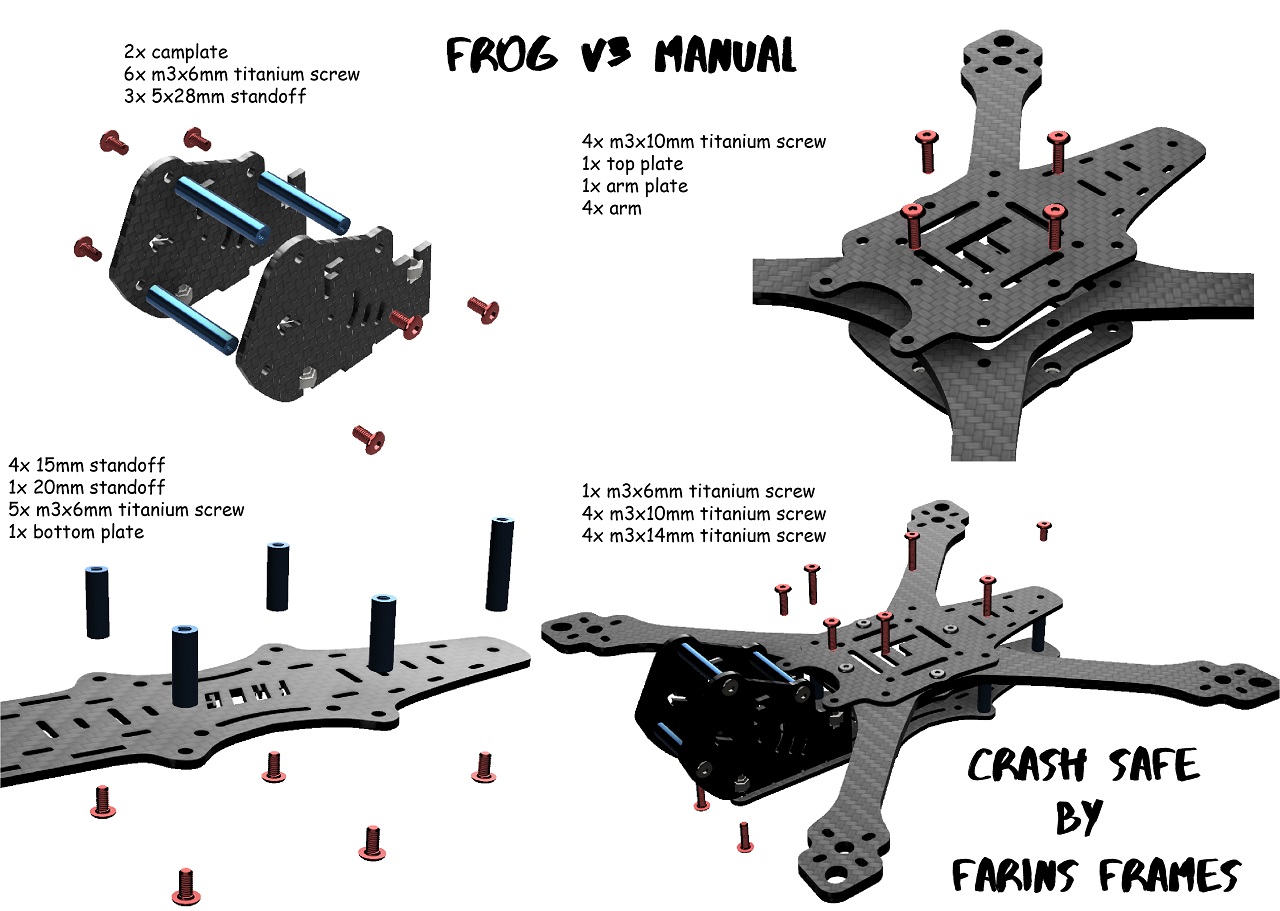 Specs:
Frame Size: From 230mm to 260mm motor to motor
Layout: True X
Replaceable Arms: 4mm thickness
Plates: 2mm thickness
Max Prop size: 5"(230mm) - 6"(260mm)
Motor Mounting: M3, 22XX-23XX motors
FC Mount holes: standard 30.5x30.5mm
Weight: ~110g

What's included in the kit:
4x carbon fiber replaceable arm 4mm
1x carbon fiber arm plates 2mm
1x carbon fiber top plates 2mm
1x carbon fiber bottom plate 2mm
2x carbon fiber cam plates 2mm
12x m3x6mm titanium screw
8x m3x10mm titanium screw
4x m3x14mm titanium screw
3x 5x28mm alluminium standoff
4x 5x15mm alluminium standoff
1x 5x20mm alluminium standoff
5x TPU parts for Vtx mount
10x TPU screw protection
2x TPU Micro cam mount




Suggested components:
Motors: 22XX-23XX 1700kv-2500kv
Esc: 30-35A BlHeli 32bit single
Fc: CL4S - Holybro Kakute F4 V2 AIO - Furious Fortini F4
Fpv Cam: Mini-Micro cam (Foxeer Predator micro - Foxeer Arrow Pro micro - Runcam Micro)
Vtx: Immersionrc Tramp HV - Furious Stealth - Holybro Atlat HV
Lipo: 1300/2200mah 4s-5s