Adding 3d printed items to your cart may result in a shipping delay of 1-2 working days.
Aggiungendo oggetti stampati 3D al vostro carrello potrebbe ritardare la spedizione del prodotto di 1-2 giorni lavorativi.
Description:

Best Italian Design Race Frame out there!

Designed mainly for race (some crazy pilots use it for long range flight also), very fast and agile, amazing aerodinamic
Suggested AUW around 200g to 270g without lipo.
We strongly advise to do not use motors that weight more than 32g because of you loose the sense why Skelepod is born.
You can choose between 3 different TPU Canopy depends on which cam are you using (Micro cam, Standard cam or Runcam Split).
There are easily enough space for 2 boards in the micro and standard Canopy but inside the Split Canopy there are space for 3 boards (ex: 4in1, fc and split boards)
**All our carbon fiber kit / spare part are made and cut in Italy**
Descrizione:
Miglior design per frame race in circolazione!
Progettato principalmente per racing (qualche pilota pazzo lo usa anche per fare voli long range, molto veloce ed agile, aerodinamica fantastica.
Il peso in volo suggerito è dai 200 ai 270g senza lipo.
Suggeriamo vivamente di non montare motori oltre i 32g circa perchè si perde il senso per cui è nato il frame Skelepod.
Si può scegliere tra tre diverse Canopy TPU a seconda della cam che userete (micro cam, standard cam o Runcam split).
C'è tranquillamente spazio per 2 schede nella Canopy per micro e standard cam mentre nella cam Runcam Split entrano 3 schede (es: 4in1, fc e scheda della split)
**Tutti i nostri kit / pezzi di ricambio in fibra di carbonio sono realizzati e tagliati in Italia**
Specs:

Frame Size: From 170mm to 230mm motor to motor
Layout: True X
Replaceable Arms: 4mm or 5mm thickness
Plates: 2.5mm thickness
Max Prop size: 4"(170mm)-5"(200mm)-6"(230mm)
Motor Mounting: M3, 22XX-23XX motors
FC Mount holes: standard 30.5x30.5mm or 20x20mm
Weight: ~60-70g depends on configuration

What's included in the kit:

4x carbon fiber replaceable arm (Choose thickness 4mm-5mm)
2x carbon fiber plate 2.5mm
4x m3x10-12mm titanium screw (Depends on arms thickness)
4x m3x14mm titanium screw
1x TPU Canopy (10+ available colours)


Suggested components:


Motors: 22XX-23XX 1700kv-2700kv
Esc: 30-35A BlHeli 32bit single or 4in1
Fc: CL4S - Holybro Kakute F4 V2 - Furious Fortini F4
Fpv Cam: Micro cam (Foxeer Predator micro - Foxeer Arrow Pro micro - Runcam Micro)
Vtx: Immersionrc Tramp HV - Furious Stealth
Lipo: 1000/1500mah 4s-6s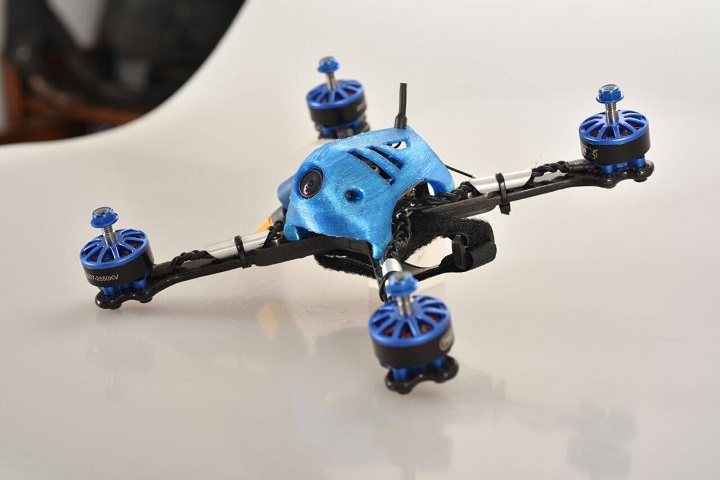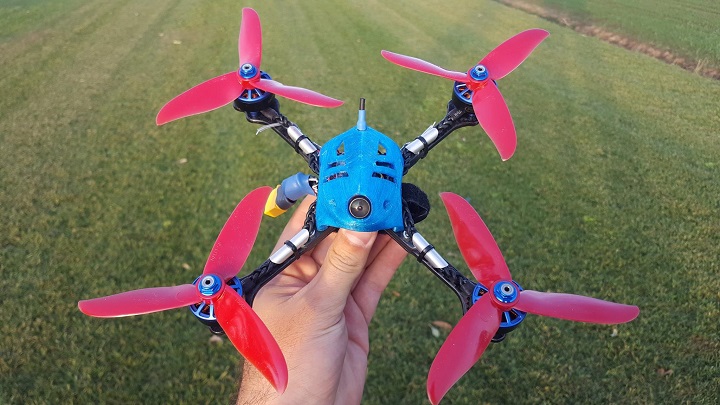 Il frame racing di farina... uno spettacolo di combinazione tra leggerezza solidità e precisione nella guida... non puoi chiedere di meglio... sopratutto con la conversione a torretta hai due droni in 1 .... !

il numero 1 indiscusso

My best frame for indoor flights and for technical traks

Quality carbon, top tpu prints and fast shipping. The Skelepod is the perfect frame for the racer who always wants to dominate the races! Recommended!

Bellissimo frame e ben fatto. Ottima spedizione super veloce.